Up date we have three litters coming for 2021  4-H and FFA Fairs! We should get  Reds, Blues,  Red/belts, Calico, and black/white belts. 
              BABIES WILL BE ARRIVING IN The FIRST OF FEB. 2021
Our Show girls are bred for Feb. 2021 with litters ready the end of March 
They  are bred with, boars from Southern Gold Genetics!!  "The Climb"" -Affirmed X Fortune X creature
                                                                                    "Night Moves"- Cruel Intentions X Porch Honky 
                                                                                   "Got Me Shook"- Gorilla X Fortune Cookie X Super Monster
THESE GIRLS SHOULD GIVE US CALICOS , BLUES, AND BELTS!  WE ARE VERY EXCITED FOR THIS COMING YEAR!
CONTACT: Valerie or Karlie Snell at 406-697-7406 with all questions and information.  Reserve your show pig with us.              
                                                                               THANKS FOR CHECKING US OUT!!  
Below is "Miss Annie Up"  a blue butt sow bred to "Best Kept Secert"  son of Best Man and Dirty Secert!!  Can't wait to see this littler.  Don't think you can get any better with those genetics??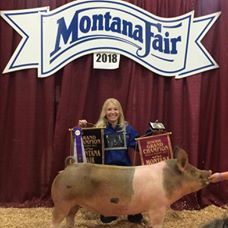 "Miss Rosie"
Our Grand Champion breeding sow from Mt. Fair 2018
She is bred to "Money Moves" for some great looking Calicos. for 2020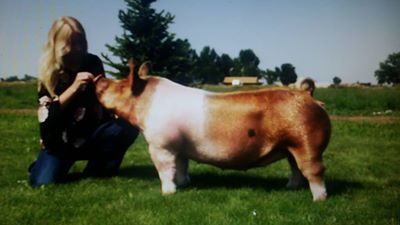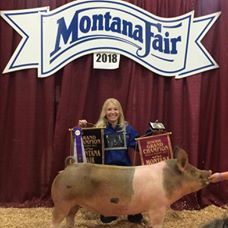 "Rosie"
Supreme guilt over- all and RESERVE GRAND CHAMPION MIDDLE WEIGHT DEVISION OF MONTANA FAIR 2018
Bred to "Watch Out" a black belted cross:  by Skywatch X Outlier 
Bred by Sharrett Family Farms in Ohio